Mother-Son Dance Songs for your Wedding
The mother/son dance song is one of my favorite parts of a wedding.
It's a brief period of time in a very busy day where you as the groom can take a second to appreciate one of the most important persons in your life- your mom!
It's joyful, happy, even a little bittersweet! I mean, her son is becoming a husband- that's a really awesome, powerful thing for a mother to experience!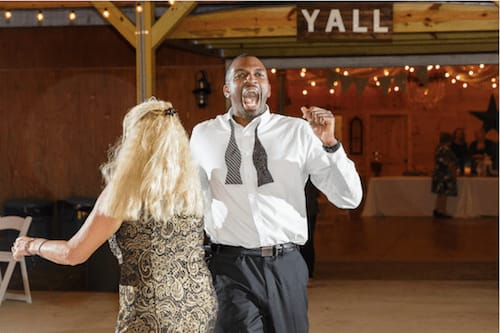 Another great thing about this dance is that the mother of the groom doesn't always get a ton of spotlight, so this is really her moment to shine and feel the love!
Think about it- usually with a wedding, it's all about the bride's parents, and usually the fathers at that!
However, this little section of the wedding is time set aside for everyone to focus on her and you.
So it needs to be special!
But, it also doesn't have to be a long, drawn-out, complicated process.
A little forethought and a short conversation can probably lead to you picking a great song in 5-10 minutes! Your mom will most likely be cool with anything, so long as it means something to her and you (her 'little tiny all-grown-up baby!').
Taking all that into account, let's go into a little bit more specifics.
THE POINT OF THE MOTHER/SON DANCE
Remember this: picking the song doesn't have to be rocket science! You can't really go wrong with this. But there are a few criteria to keep in mind.
You want to pick a song that says something about the relationship and the love that you and your mom share. I'm not saying it has to be a song you guys used to listen to together, or one you were listening to at a certain moment in your relationship (in fact, that's probably a little too creepy for a mother/son song); you just want something that sounds like 'you and her'! It could be in the lyrics, or even in the feel of the song.
Another thing to remember is that this song is not really an 'I'm grown and gone, bye-bye Mom!' song as much as it is a 'Thank you for everything you've done for me' song.
This song is a gift to your mom. A lot of people immediately start looking for a song that sounds like a mom talking to her son and wishing him well, but consider the alternative: it might be cool to start from the OPPOSITE side of the conversation- a song that shows your appreciation for her and thanks her for everything she's done for you. That also opens you up to a much wider choice of songs.
That brings me to my final criteria: the 'feel' of the song. Do you want a unique mother/son song, or a traditional one? Do you want a kind of 'cheesy' song that Mom's will love, or maybe even something a little humorous and lighthearted?
None of the answers are wrong- it's really just personal preference.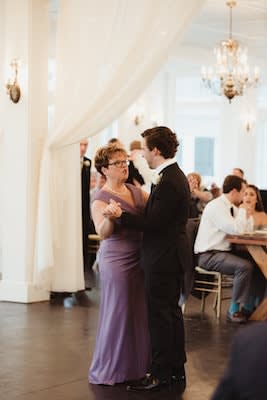 WHO PICKS THE SONG?
Usually, the groom will pick the mother/son dance song.
However, it's always a great idea to get input from mom.
For my own wedding, I picked 'Humble and Kind' by Tim McGraw. I thought this struck a good balance of being sweet, not overplayed or cheesy, and on top of all that, sounded like something my mom would actually say to me! It kinda kept with her personality. And she loves country, so that was an added bonus.
To get the ball rolling, try to come up with and offer her some suggestions (and see if she has any of her own), and then pick the song together from that short list.
Just remember: even though technically the ultimate decision is up to you, show Mom a little extra love by giving her the input too (or even the final choice!). It'll go a long way!
TL/DR: While the son has the ultimate final 'say-so', we suggest either really letting mom pick, or deciding together. A little bit goes a long way here!
THINGS TO CONSIDER
There are a few other things to keep in mind when you're picking your mother/son dance song. Try to think about these:
1. HOW LONG DO YOU WANT THE SONG PLAYED?
Usually, this is something people don't consider until they're on the dance floor, dancing with their mom or dad, and thinking, 'Wow. We've still got 4 minutes to go. I'm about to run out of moves'.
This is a very important thing to go over with your band or DJ.
The perfect time for a parent's dance song is about 90-120 seconds. That's enough time to get through a verse and a chorus and allow for a sweet amount of spotlight, but not go too long (which gets kinda awkward for all your guests).
For another time gauge, tell your MC that you just want them to play the first verse and chorus (or if it's a band playing it live, maybe the first verse and the chorus twice). That's usually perfect!
TL/DR: We advise making a point to decide how much of the song (or which part of the song) you want played and keeping it under two minutes- your guests and dance repertoire will thank you!
2. WHO SHOULD PLAY IT?
Do you want the band to play it live, or would you rather play it on an iPod/recorded version?
For special dances, unless you just want something very different and unique, I usually recommend playing the recorded version of the song.
Reason being is that when it comes to special songs, a lot of people like (and are used to) hearing them how they remember them- sung by a specific artist with a specific arrangement. It also takes out the possibility that someone unfamiliar with the song won't mess it up!
TL/DR: Decided whether you want the band to play it live, or if you'd rather them play it on an iPod. We recommend the iPod to keep the original arrangement and sound.
3. IS IT EASY TO DANCE TO?
Some songs (like 'God Only Knows' by the Beach Boys) can have some pretty weird timing/stop-start parts in them that make it difficult to dance to, and might result in a… 'choppy' performance.
Make sure the song you pick is something you can dance easily too- not too slow or too fast.
TL/DR: Make sure the song is easy to dance to- not too fast, not too slow
4. WHAT KIND of VIBE DO YOU WANT?
I put mother/son dances into three basic categories:
a) THE MAMA'S BOY SONG
These are popular, and are your typical 'Mom songs'.
These are usually the really common mother/son dance songs that Mom's eat up! Think 'My Wish' by Rascal Flatts, or 'The Perfect Fan' by the Backstreet Boys.
A little cheesy, a little cliche, but that's ok!- mom's love of songs and don't care at all! And sometimes these songs say the perfect thing that parents wants to hear, so don't be afraid to use them!
They're popular for a reason!
b) THE LEFT-FIELD SONG
These are the songs that you don't hear a lot, but still sound great and are really applicable to the mother/son relationship. People also like them because they're a little more unique.
A lot of brides and grooms want to land here- a more 'out-there' song that you don't hear at every wedding, and that maybe has a little more complexity and lyrical depth. 'Forever Young' by Bob Dylan pops into mind here.
c) THE LIGHT (FUNNY) SONG
For the more lighthearted, cut-loose, cool moms, I give you the 'Funny Song'.
This gets everyone laughing and clapping along, and sets a really good tone for the reception to come. There's absolutely nothing wrong with going funny for a special dance song!
Think Mr. T's 'Treat Your Mother Right' or even 'Mama Tried' by Merle Haggard.
BONUS: WHAT DO YALL TALK ABOUT DURING THE DANCE?!
This was something I always wondered about- what do sons and moms actually TALK about during the dance? It was my wedding version of watching a baseball game and wanting to know what the coaches and players are saying when they approach the mound- what exactly goes on?!
Well, turns out it wasn't really all that shocking: my Mom and I just joked around a little bit, and talked about how the day was going. I also thanked her for everything she'd done for me and my new wife in the time leading up to the wedding.
Now some guys aren't very sentimental and get a little weird expressing their feelings (I definitely fall into that category), but try and say a little 'thank you' to Mom during the dance- it will mean a TON to them, and will make them feel like a million bucks!
LIST OF 20 GREAT MOTHER/SON DANCE SONGS
So now with all that in mind, let's get down to the actual picking.
Every song will be so personal, so it's hard when clients ask 'What song should I pick?', because a song that works for me may be TOTALLY wrong for you.
However, if you just can't think of even a little jumping-off point, we've created a list of 20 great Mother/Son dance songs that work great.
Enter your email below and we'll send it over to you!